Welcome again all friends of Mountmellick Embroidery Museum to another article which we hope is of interest to you. We send best wishes to you, your family and friends, that you are staying safe and looking forward to meeting up outside of social media sometime very soon. Enjoy this week's contribution written by our Chairperson Ann Dowling.
Over to you Ann.
In case you have joined us for the first time, we have during the closure of our Museum due to Covid 19 restrictions printed an article each Friday which focuses on some aspect of our Museum or relevant local history. In previous weeks our articles included a brief history of the following, the Beale Family, Two unique Samplers on display in our Museum, pre-famine Industry in Mountmellick, (" Manchester of Ireland "), Catholic and Protestant Churches, and last week the story of our very successful collaboration with prominent Dress designers Heidi and Caroline with the embroidery stitched by Dolores. The finish dresses are on display in our Museum. All of the pre-mention articles along with photographs are available on our Museum / Facebook and Mountmellick Development Association Website. Please feel free to share, and forward any comments or stories relevant to our Museum or Mountmellick. We would love to hear from you. In support of my article below I would also refer you to the attached photographs which in many ways tell their own story.
Our embroidery Museum in addition to holding and displaying items of exquisite craftsman's ship is also a powerful reminder of the history of the area and the people who passed before us, to whom we are indebted. Later in this article I will brief you on how Mountmellick embroidery was revived, and how those involved were influenced and always conscious of those individuals and events which helped shape our past. It is impossible to talk about Mountmellick embroidery in isolation without considering some of the following questions:
The history of the town? What were the factors that influenced its development? Who were the main individuals that influenced and contributed to its growth? What else was happening in the country at the time? What important events impacted on its development both negatively and positively? In order to briefly answer these questions, I would ask you to please bear with me as I take you on a whistle stop tour and take you on a trip through time which spans nearly 250 years.
For any non-local readership just to note that Mountmellick is centrally locally in the midlands region, easily accessed from Dublin fifty miles away, and can be considered a gateway to most parts of the Country. At present its mainly an agricultural town with a population of five thousand people approximately, it nestles in the shelter of the Slieve Bloom mountains and the Owness river which flows through it.
Early History - As early as the 1400's there was a small community located beside the Owness river where life was hard and access to means of survival were a daily challenge, families really struggle to survive.The foundations and structures of the town that we see today were laid by the members of the Society of Friends also knows as Quakers founded by George Fox in England in 1647. In 1659 William Edmundson settled in Mountmellick along with other recent Quaker converts like Richard Jackson, John Thompson, William Moon and John Pim (Average Age 19 years), the population of the town at the time was 175 people. William Edmundson who was a former soldier under Oliver Cromwell who following his experiences of many battles turned away from that way of life, and embraced the Quakers beliefs where it is considered that, every person has the light of Christ in them, he/she should be able to talk directly to God, should not pay tithes to any other Church other than their own, should not have to take the oath of allegiance to the king or be subservient to any other person. These views obviously caused conflict with the authorities and the established church who tried to impose their will and rules on the Quakers without success. It did result however in some severe punishments and imprisonments being imposed by the authorities in an attempt to subjugate what was seen as an emerging threat. These punishments only appeared to harden their resolve and influenced their later involvement in issues like Prison reform and their campaigning for the abolition of slavery among many other things. While the ordinary population were initially suspicious of the Quakers and their motives, they were soon won over by their hard work, honesty, integrity and respect for their fellowman which was on constant display.
In addition to their strong social and religious beliefs as mentioned the Quakers were also a very industrious people, William Edmundson set up a tannery, others set up malting, brewing, spinning and weaving enterprises, so that by the mid 1700's Mountmellick was the leading centre of textile production in Ireland.
John Pim (another Quaker) and his descendants owned and ran the town's main industrial firms, his enterprises included malting, baking, and the manufacture of starch, glue, tobacco, snuff and candles. Another famous Quaker William Penn travelled to America and such was his success achieved there, that the state of Pennsylvania is named after him. He also founded the city of brotherly love which we now call Philadelphia - Ideas from his famous book "Peace Plan" have been adopted by the European Union to which Ireland is a long standing member since 1973. Both George Fox (Founding member of the Quakers) and William Penn visited Mountmellick on a number of occasions showing the pride of place that these founding members had for Mountmellick and what it had achieved.
Over the next century this small group were instrumental in transforming Mountmellick into a town where 27 industries flourished, In the mid-1700s it was known as the Manchester of Ireland with over 4000 people employed in the textile industry alone, mainly cotton and woollen. The Quakers brought to Mountmellick a sense of community and social awareness, they had a strong value system, Personal Quaker traits of simplicity, integrity, steadfastness, honesty, generosity and caring together are all part of the Quaker Ethos.
The Quakers were also very involved in Education and started the very first Quaker Provincial Boarding school in Mountmellick in 1785 where needlework, both fancy and plain were taught, money from the sale of these items was used to purchase textbooks, this school which is still in existence was taken over by the presentation nuns in 1922 and is now a community school today.
That brings me on to the early stages of Mountmellick Embroidery which is credited to a lady named Johanna Carter.
In 1825 Johanna Carter introduced what later became known as Mountmellick embroidery, this became one of the most popular forms of needlework during the 19th century. Johanna Carter who also designed some of the patterns created a form of white embroidery, white cotton thread worked on white thick satin jean. At that time there was a worldwide revival in the art of embroidery and lace making. Margaret Beale (another Quaker) and wife of Joseph Beale was also heavily associated with its early, development. They started a cottage industry to help destitute women earn a little money both before and during the dreadful famine years (1845 1849). Mountmellick Embroidery is unique as it's the only form of embroidery from the 19th century that can claim to be entirely Irish in origin and design. Its importance in Irish Social History is immense. It was produced to be very serviceable and practical and used in everyday life i.e. night dress cases, pillow shams, quilts, combs and brush bags, pin cushions, items like bed spreads would require the involvement of several ladies to complete (remember all made by candle or gas light). The designs used were inspired by the flora and fauna of the area, these included blackberries, dog rose, wild clematis, viola, and fuchsia. Cultivated plants such as passion flowers, tiger Lilly, snow drops and daffodils also appeared frequently in the design. One of the features of Mountmellick embroidery is in fact its serviceability and longevity. It is meant to be used, and repeated washing has given older pieces of work a particular softness.
This art of embroidery spread to middle class houses where more refined pieces were made by the ladies of the house, this occurred mainly after the great famine where it became a fashionable middle class pastime.
The original Mountmellick embroidery patterns and designs were drawn up by very skilled Quaker ladies, these patterns were retained by the Pim family after the total decline of the craft during the early and middle 1900's, the Pim family who are descendants of the original founding member John Pim who came along with William Edmundson to Mountmellick around 1659 and are still a prominent family in the area today. These patterns and designs were handed over to a local nun in the late 1970's an important individual who as we shall see played such a significant role in the revival of this unique craft.
The great famine which occurred in Ireland ( Gorto Mor) 1845-49 where millions of people died / emigrated also contributed significantly to the demise of the Quakers in Mountmellick, and their associated industries, it also heavily contributed to the decline of the embroidery craft in the area . Some Quaker Families emigrated to many other countries like Australia, Canada, England, New Zealand where they were equally successful. On a positive note they also brought with them their embroidery craft and thus contributed to its spread and revival in many parts of the world. Those Quaker families that remain during the famine times tried to help the starving people in any way that they could particularly the Beale Family before they too were forced to leave and forge a new life in Australia.
About 1880 Mrs Milner started an Industrial Association to provide a livelihood for "distressed Irish Gentlewomen" known to have employed 50 women in making embroidery pieces, this lead to a major upsurge and interest in the craft around the country, while it too declined in the early 1900's the embroidery maintained its reputation for quality, style and durability.
Decline in embroidery all through the 1900's was also mirrored by the decline of all of the industries that the Quakers had initiated.
Revival of the Embroidery Craft in Mountmellick
So How was the Embroidery Craft Revived? A presentation nun Sister Theresa Margaret McCarthy (See Photograph) was instrumental in the revival of this craft in the 1970's. While not having a detailed knowledge of the various stitches she unpicked old pieces to ascertain how they were formed. Having been entrusted with all of the original patterns held by the Pim family, she held regular classes and taught many ladies from around the area who are now themselves master tutors, teaching the next generation of enthusiasts.
All embroidery pieces now being created, while retaining the quality and durability of the originals can be transposed to compliment more contemporary pieces and enhance the requirements of today's society e.g. – wedding dresses, christening robes, lampshades, ring cushions. Sister Theresa Margaret had her final dream and legacy assured when she turned the sod for a new Museum on the 8th May 2002 and was also a guest of honour at the official opening on the 26th October 2003 performed by Mr Seamus Hosey. She entrusted all of the original patterns and completed pieces to the Museum for safe keeping. It is a fitting recognition to honour her legacy, which is complimented by the additional pieces donated and loaned over the years, from both home and abroad. Thanks is also due to the Mountmellick Development Association Board and the ongoing work of the Museum Committee members past and present who along with the very active tutors, are responsible for the subsequent development and growth of our Museum. Perhaps you might consider scheduling a visit to see us when we reopen again.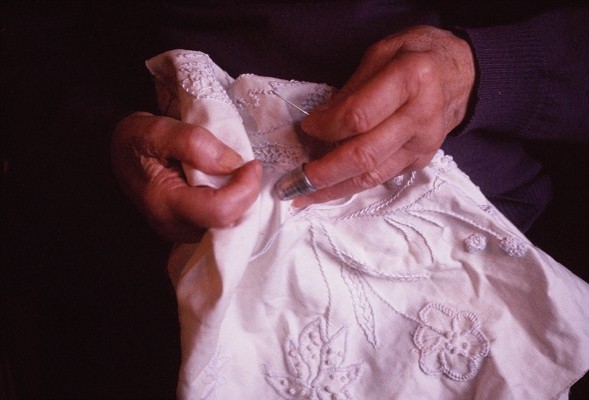 In July 2019 Mountmellick Embroidery received special recognition when we were included in the National Inventory of Intangible Cultural Heritage, which protects, promotes and celebrates Ireland's living cultural heritage, Crafts and traditions through Official State recognition. The importance of intangible cultural heritage is not only the cultural expressed itself, but rather the wealth of knowledge and skills that is transmitted through it from one generation to the next. Cultural heritage does not end at monuments and collections of objects. It also includes traditions or living expressions inherited from our ancestors and passed on to our descendants, or the knowledge and skills to produce traditional crafts. This award would not have been possible without the initial commitment and dedication of Sr. Theresa Margaret and all of those individuals past and present who continue to develop and teach this craft.
Our Museum is part of a larger complex known as Mountmellick Development Association ( MDA ), itself founded in 1982 to promote Industry and offer employment in the area. This Organisation (MDA) which is overseen by a voluntary Board of Directors has contributed significantly to the growth and development of industry and employment in Mountmellick and surrounding area. The inspiration for its development came from the ideals and values instilled by the Quakers many years previously. This spirit of caring and helping each other, handed down from our forefathers is now required more than ever to support people in these challenging and uncertain times.
Stay safe – keep well – lookout and support each other.
Tune in next week for another article, thank you for joining us this week.
Ann.