Welcome again all friends of Mountmellick Museum to week eleven in our series of articles relating to either our Museum or relevant local history. During these challenging times we send every good wish that you and all of those people you care about are remaining safe and making plans to be closer to your love ones in the weeks ahead, as the restrictions continue to ease and some semblance of normality appears to be returning. The Covid 19 outbreak has had worldwide implications and unfortunate consequences for some people, it has however reinforced the message, if there ever was any doubt of the need to protect , mind and care for each other.
Thank you all for your kind comments, shares and likes received over the last ten weeks, we do appreciate the feedback. While no definite date for the reopening of our museum is available at present, the interventions in place to date are making this prospect more of a reality in the near future. We certainly look forward to that. Over the last ten weeks while our Museum was closed we have published a variety of articles, all drafted by members of our Board / Museum Committee which hopefully has given you a sense of the rich history and heritage associated with the Midlands Town of Mountmellick of which we are very proud. Perhaps we have whetted your appetite to consider either revisiting our Museum when it reopens or planning your first visit to see us and what our Town has to offer at some stage in the future. While holding on to and sharing our rich past we are very much looking to the future in terms of ongoing development.
Since the opening of our Embroidery Museum in 2003 we have welcomed many visitors from around the world through our doors and have received very positive feedback and accolades on their Museum experience. So what can you expect when you schedule a visit to our Museum? In order to answer this question in an unbiased manner, and in a departure from our normal in house authors, we have this week handed over responsibility to two individuals who have over the last few years visited and enjoyed our Museum experience. Firstly, we hear from Dennis Morrell a very successful tour operator based in New Britain Connecticut USA who has visited Ireland with his tour groups on over sixty occasions over the years, he brought a group to our Museum in 2019. Secondly we will hear from Wendy Johnstone from New Plymouth New Zealand who was travelling in Ireland and called to the Museum. This visit by Wendy resulted in me later paying a visit to her Guild in new Plymouth New Zealand in 2018, where as part of a personal vacation I had the pleasure of making a presentation on Mountmellick Embroidery while attending their ANZEG (Association of New Zealand Embroiderers Guilds) biannual Conference held in Nelson. At the conclusion it was an honour to present a special commission piece of Mountmellick work to the Nelson Guild. This piece which represented the silver fern of New Zealand, the shamrock of Ireland entwined by forget me knots, was designed by Ann O Brien and stitched by Ann, Dolores Dempsey and Margaret Gorman This was a wonderful occasion and a great opportunity to showcase Mountmellick Embroidery to a very knowledge audience. Do tune in next week for another interesting article.
Over to you Dennis and Wendy and thank you for your contribution.
Ann Dowling - Chairperson Embroidery Museum.
Presentation by Ann Dowling @ Nelson Conference
Embroidery Piece presented to the Nelson Guild by Ann Dowling.
Designed and Stitched by Ann O Brien, Dolores Dempsey, and Margaret Gorman.
Mountmellick Embroidery Stand at Nelson Conference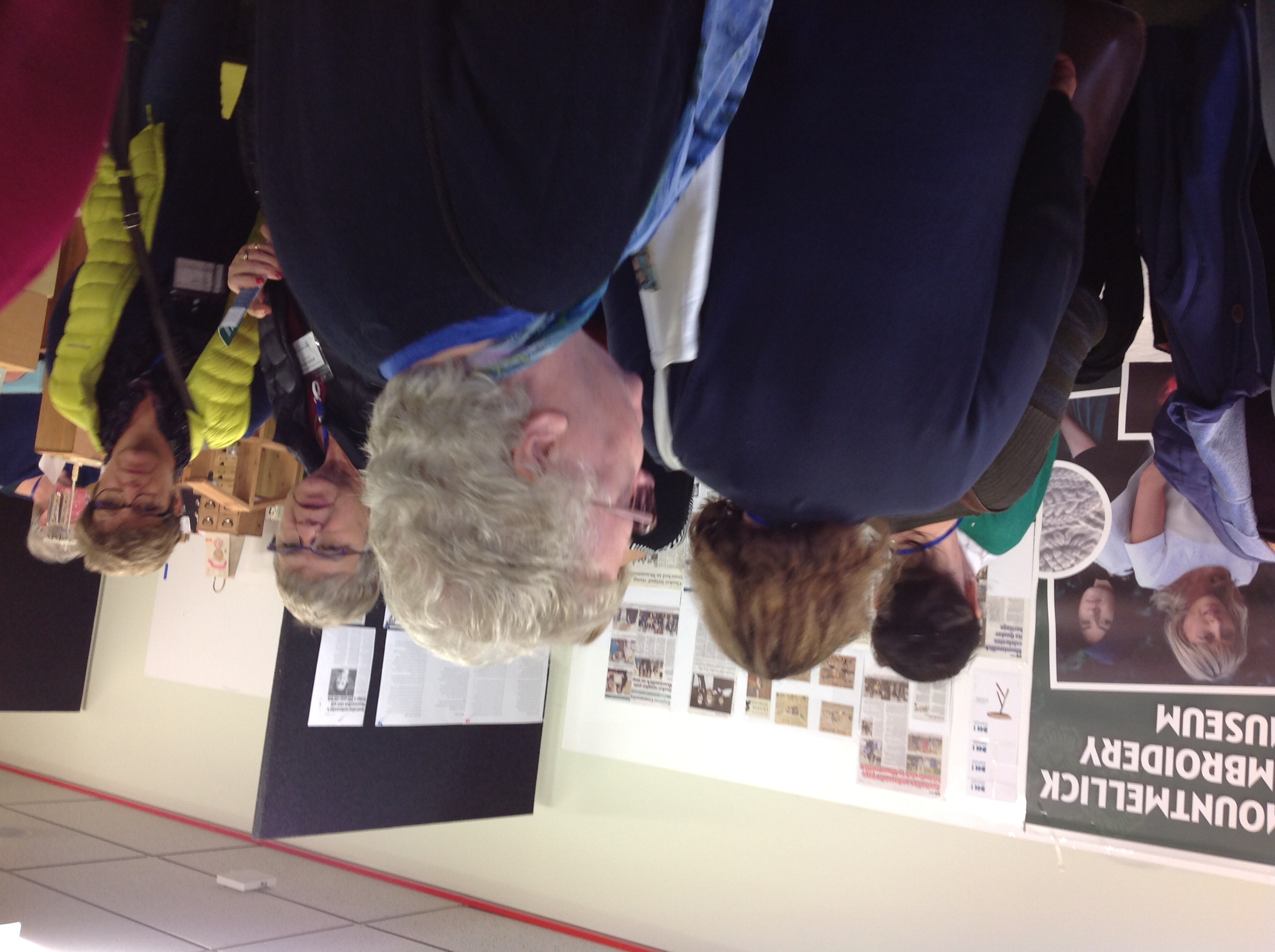 Dear Friends,
I hope this note finds you all staying well during these challenging times. It is only now that I am finally finding the time to write you with my group's experience last summer at your museum.
My involvement in the Irish tourism industry began in 1986 after attending a family wedding in "Lovely Laois." I fell in love with your beautiful county in the midlands, and the entire island for that matter. It was inevitable when I started my career at Perkins Travel that my focus would be tours to Ireland. The level of hospitality shown to visitors is incomparable. The diverse landscape of rolling green hills and rugged coastlines can take one's breath away. Adding to the appeal is a rich history, delicious foods, and libations. You are the land of storytellers and no one is too rushed to share a story. Having visited Ireland over sixty times, I am always searching for that new and uniquely fulfilling experience for my clients. We found that experience at the Mountmellick Embroidery Museum.
It was our driver's first time to the museum, and he was a bit concerned about getting us lost and finding ample parking. He had no issues with finding your location, parking was accessible, and we arrived for our appointment a bit early. In true Irish fashion this was no bother to the staff. Just as Dave turned off the ignition, we were met by our charming hosts Ann Dowling and Paddy Buggy with a genuinely kind and warm welcome.
Thankfully, we were directed to your nicely maintained restrooms (always a concern of tour groups) for a break before gathering in a large comfortable room for our presentation. A short film was shown giving the group a concise history of this once Quaker settlement and the intricate embroidery indicative of the area. The pride was apparent with everyone we encountered, and it is no wonder after learning the embroidery is the only work of its kind that can claim to be entirely Irish in origin and design. Thank you, Anne Sands for adding to this great history lesson with your storytelling. It was a treat to see a demonstration by a local artisan who worked her amazingly detailed craft while graciously answering our questions. The many samples showcased were impressive, but the commemorative 9/11 piece of the Rising Phoenix ( on loan from Ann O Brien who designed and stitched this masterpiece ) touched the hearts of this American group. We were just as moved with the story of the young Irish women sent off to Australia during the great hunger and the replicated travel box on display containing all their worldly possessions.
We ended our visit sipping a cup of tea and nibbling on freshly made treats in your delightful café. Whether it is a first visit or a repeat visit to Ireland, I recommend that clients get off the beaten path and visit the Mountmellick Embroidery Museum in Lovely Laois. It is a true Irish experience.
Wishing you continued success,
Dennis Morrell, CTC
Ireland Specialist
Perkins Travel Corp
Anne Sands giving a talk to American Tour Group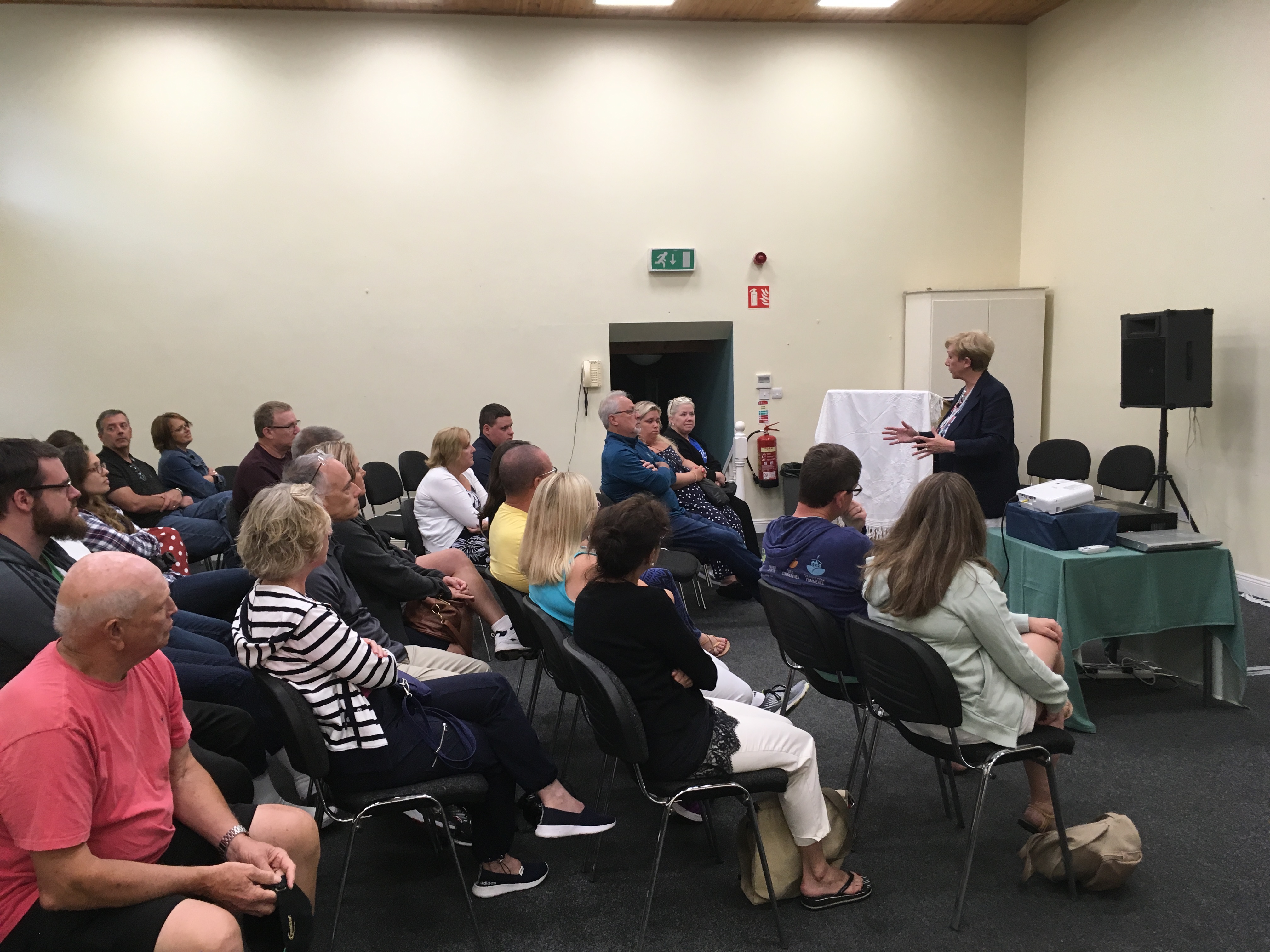 Annie Kelly giving Demo of Embroidery to American Group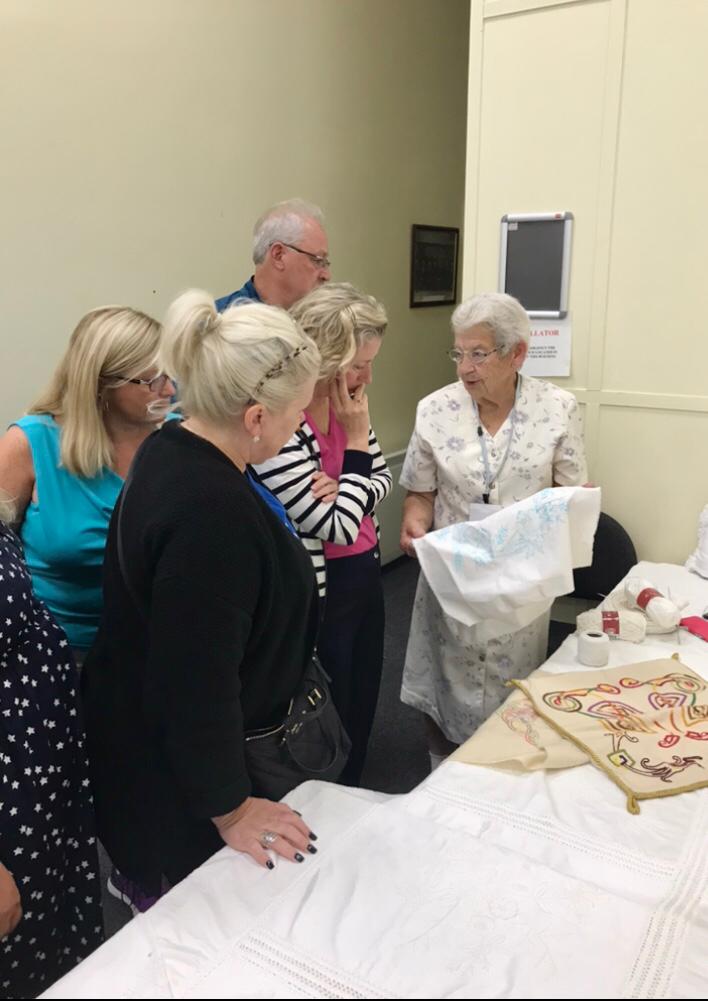 American Group enjoyed the story and history behind it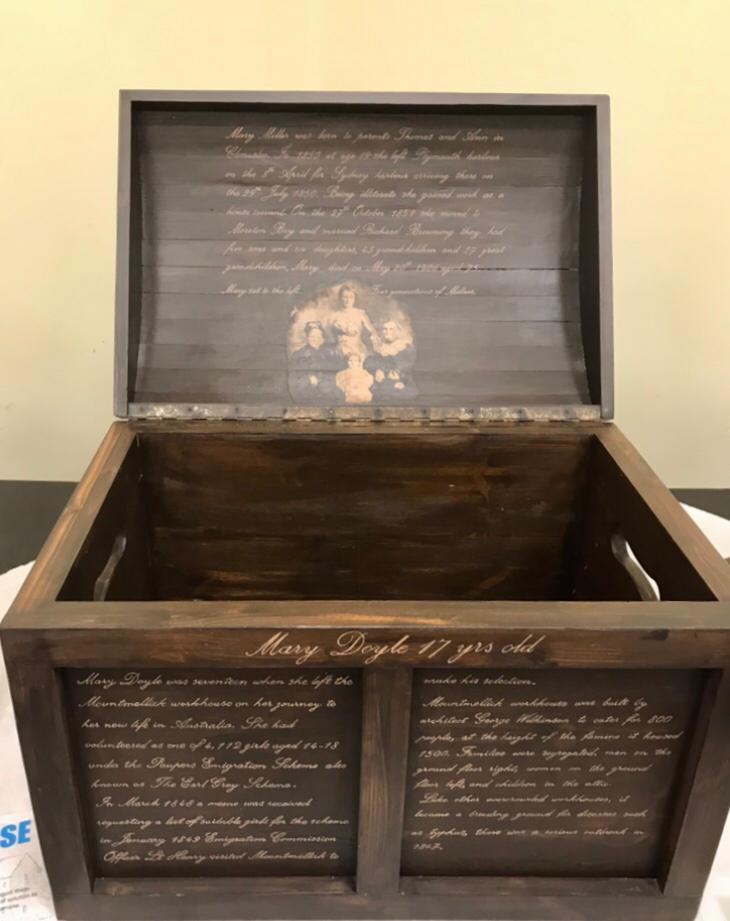 A visit to Mountmellick Museum September 2016
In September 2016 I arrived in Ireland after 6 weeks touring the UK, after a few days in Belfast I travelled by train to Dublin. I had a few days in this lovely city and on a visit to Malahide Castle saw a beautiful Mountmellick bed cover. Mountmellick embroidery has always intrigued me, as I had inherited several pieces stitched by my paternal grandmother (two of her pieces I donated to your Museum).
I picked up my rental car and headed off on my journey around Ireland with a visit to Mountmellick Museum high on my list that day. Several years earlier I had some correspondence with the museum when I was asked to take a Mountmellick class. I had my big map book as my guide and found my way very easily. It was disappointing when I arrived to find the Museum was closed, as the exhibits were in the process of shifting to a new building. I explained I was from New Zealand and interested in embroidery and textiles and the receptionist called the Manager Paddy Buggy who kindly showed me several pieces and the new exhibition display areas.
Paddy and I spoke for about an hour and the subject of a small exhibition travelling to New Zealand at some time was discussed. As I am a member of the New Plymouth Embroiderers Guild I was able to suggest the possibility of a visit to the ANZEG (Association of New Zealand Embroiderers Guilds) biennial conference due to take place in Nelson in 2018.
This meeting with Paddy had a very positive outcome and after many e mails on my return to New Zealand a visit came to fruition. Ann and Liam Dowling were able to travel to New Zealand and attend the Conference in Nelson. Ann gave a very interesting and informative presentation which included a showing of the Museum DVD telling the history of Mountmellick Embroidery which was well received by the large Group in attendance. They then travelled to my home town of New Plymouth where Ann gave a similar presentation to my local Guild Members. It was such a pleasure for my guild to view all of the original Mountmellick embroidery pieces which Ann has so carefully brought with her. The evening rounded off with some nice refreshments and a very interesting chat with all present. I was delighted to receive from Ann some embroidery material and thread for our Guild which was gratefully received. It was certainly an honour and privilege to host them and we have become firm friends. This was a great outcome from my original visit to your Museum in 2016.
I do hope when the world returns to normal I am able to travel back to Ireland to visit your lovely town to meet up with Ann, Liam and Paddy again and see how your beautiful museum pieces are now displayed.
With kind regards from all in New Plymount, New Zealand.
Wendy Johnstone.
New Plymouth Guild Viewing Embroidery Pieces​​​​​​​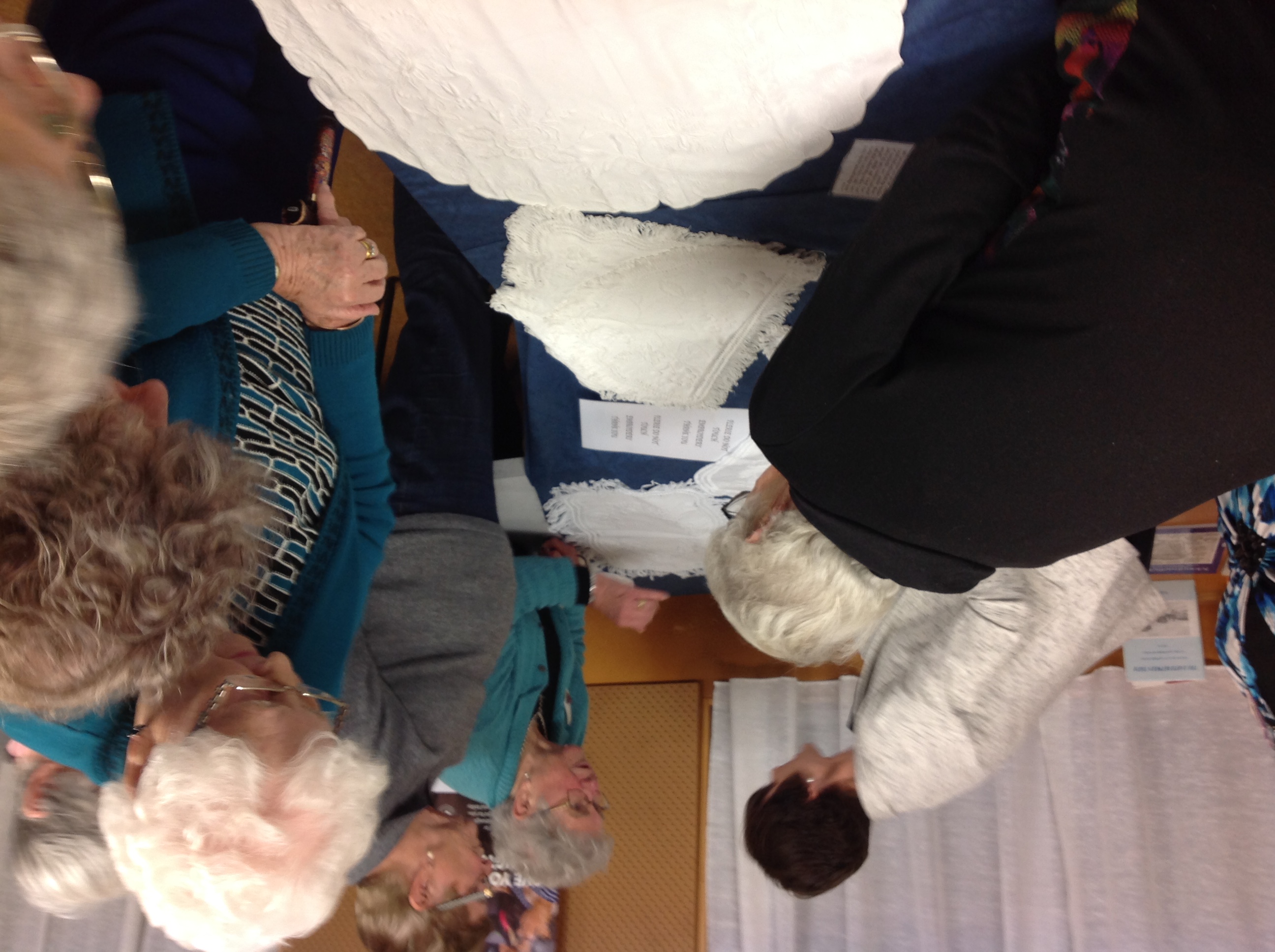 Wendy Johnstone​​​​​​​ and Ann Dowling enjoying the sites of New Plymouth​​​​​​​