New Zealand – Australia Trip.
See below a continuation of my previous blog on my travels to New Zealand and Australia.

When I left you last I had written about my attendance at the embroidery conference and my PowerPoint presentation to the Extensions Group on the Friday morning the 13th July. My presentation which covered the history of our Museum and its rich association with the wider Mountmellick Quaker History which along with a showing of our Museum Video was very well received by all who attended this portion of the conference on which I received very positive comments and feedback.
All of the members then spent some time viewing all of the embroidery exhibits which I had also on display. I was somewhat pleasantly surprised at the knowledge and awareness that existed among the group of Mountmellick Embroidery and its long history. It was heartening to hear so many stories of their connections with Mountmellick Embroidery through their parents and grandparents. A number of members subsequently brought in some pieces to show me later in the conference. This activity concluded the morning session after which we all adjourned for a welcome coffee break, further mingling and great conversation on all things Mountmellick related. During my presentation and subsequent conversation, I extended an invitation to all to come and experience for themselves what our Museum has to offer – this invitation has already borne fruit as a number of visitors whom I met have already visited our Museum in the interim with many more expected in 2019.
Over the next few days i.e. Friday, Saturday, and Sunday I attended a number of conference related events which included the following, the official opening of the conference held on Friday Evening, where my husband and I were officially welcomed. We also visited all of the exhibitions stalls set up displaying the numerous examples of New Zealand crafts which were fantastic to see. In addition, we attended presentations by Philippa Turnbull and met Evette Stanton (Australia Embroidery Author and Teacher) who herself has written a number of books on Mountmellick Embroidery and had an exhibition of her work on display which I also visited and enjoyed.
On the Saturday Evening I along with my husband were guests of honour at the well-attended conference dinner at which individual winners to their national competitions were awarded. A great evening was had by all and it gave me an opportunity to further network with likeminded individuals all of whom had a huge interest in all things embroidery and craft. Sitting next to me was Philippa Turnbull who is also a very successful Author, Embroidery, and Tour operator whose itineraries include trips around England Scotland Wales and Ireland.
Following our long and enjoyable discussion over dinner, she is very much open to exploring a future collaboration with our Museum and how best to promote it for mutual benefit. This is one of a number of similar opportunities to be explored going forward by our committee arising from some of the individuals I met. Early on the Monday morning I set up our Mountmellick Embroidery exhibition in the space provided for us in the exhibition centre. This included a display of all of the embroidery pieces plus the Mountmellick Dress which was designed and made by Heidi Higgins from Portlaoise, and incorporates Mountmellick work stitched by expert tutor Dolores Dempsey. This display also included a number of story boards which told the history of the embroidery museum and its rich Quaker heritage. We had a very busy day showing off our exhibition and conversing with many visitors who were attending the conference. We also used the opportunity to issue all of the Mountmellick Embroidery pamphlets which I had brought with us, both promoting our Museum, Mountmellick, Laois and Ireland and the planned embroidery tour (Thread softly through Ireland) scheduled for 2019. Many of the ladies who came to our exhibition had in fact visited Mountmellick, and had attended embroidery workshops – they had many positive stories to relate on their experience here and of their connections with Ireland.
It was with great sadness that we dismantled our display on the Monday night and thanked our hosts for their fabulous hospitality to us during our stay in Nelson and said farewell to Nelson. While this ended our connection with the embroidery conference in Nelson we still had a number of planned engagements to fulfil on behalf of the Museum both in New Zealand and Australia details of which I will include in the next update which I will include shortly. We departed Nelson early on Tuesday morning in route to Picton where we picked up the car ferry to the North Island where we visited Wendy Johnson and her guild in New Plymount.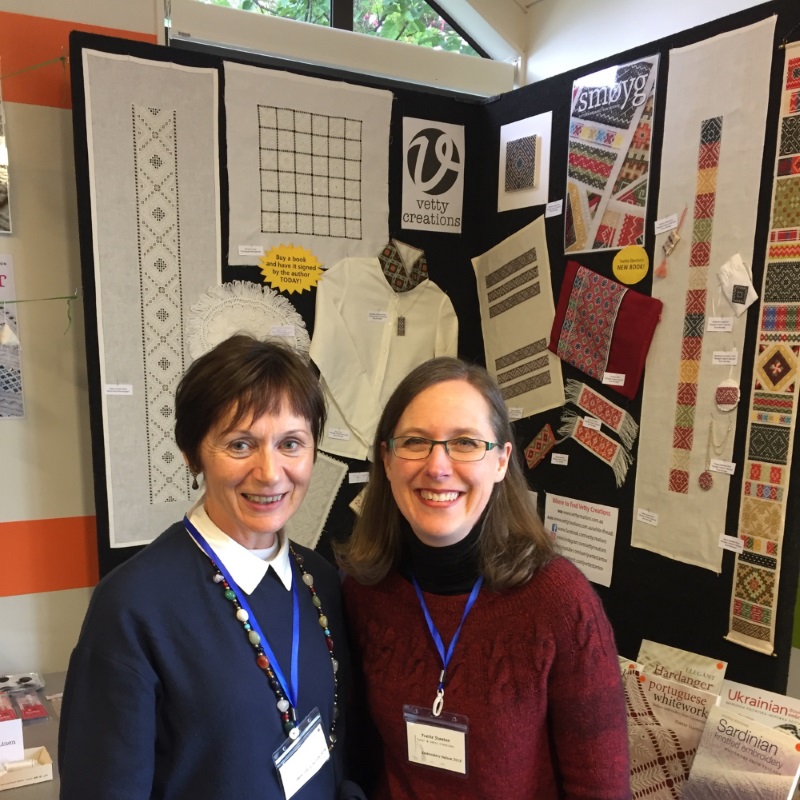 To be continued.